Wavisavinavi
As you know Wavisavi, you will more enjoy Japan.
Konekko-ya
Shop Information
Located by Lake Shinji, Matsue's Kitchen Konekko-ya offers delicious dishes with locally sourced ingredients and sake with a breathtaking view.
| | |
| --- | --- |
| Genre | Izakaya |
| Area | Matsue City-Shimane |
| station | 5 minute walk from Matsue Shinjiko Onsen Station |
| Lunch budget | 1,500 yen |
| Dinner budget | 4,000 yen |
| Lunch time | 11:00-14:30 L.O 14;00 |
| Dinner time | 17:00-22:00 L.O 21:30 |
| Holiday | New Year holidays |
| Address | 2F Shijimi-kan, 36 Chidori-cho, Matsue, Shimane |
| Wavisavinavi | Move to app |
Restaurant overlooking Lake Shinji
Located by Lake Shinji, our restaurant boasts a breathtaking view from the window. Inside is the beautiful décor with local bamboo and wood, creating a relaxing environment for our guests to enjoy. Our kurogaki (black persimmon) solid timber counter is perfect to enjoy local food, and our tableware also features local materials that add wamth to your dining experience.
Super Fresh Seafood
Fresh off the lake, Shinjiko Shicchin (The whitebait of early spring, the Shijimi clams and eel of summer, the shrimp of autumn, and the bass, smelt, and carp of winter) are available for guests to taste the season's best. With other seafood from Japan sea, our special menu is popular among guests overseas. For wasabi lovers, we offer fresh wasabi for you to grate your own. Enjoy!
Carefully selected local sake
There's a reason why we're called Matsue's Kitchen. Our wide selection of wine, high ball and sake is something you may want to try. We have Ginger High Ball with locally sourced ginger, wine from local winery, Winery Okuizumo, and local sake, Ouroku. Ouroku is only available around Matsue area. Please knock back a few of our selection while you enjoy the beautiful scenery from the window.
Assorted locally sourced 5 sashimi.
Assorted seasonal sashimi. Grate real wasabi from Hiroshima at the table and enjoy the fresh wasabi flavor.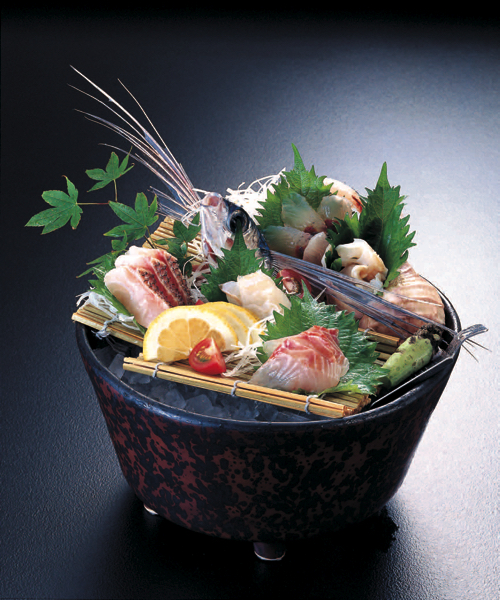 Shimane Wagyu Roast Beef
Simply seasoned with salt and pepper. Try Ponzu for a little kick. Enjoy the robust flavor to the fullest.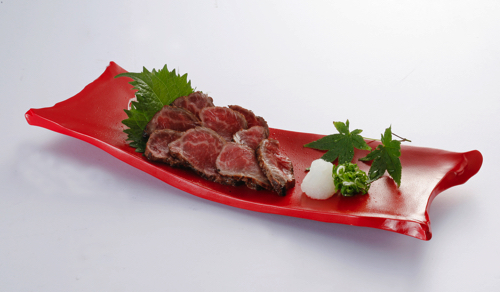 Assorted Tempura
Gorgeously and generously assorted Tempura. Enjoy.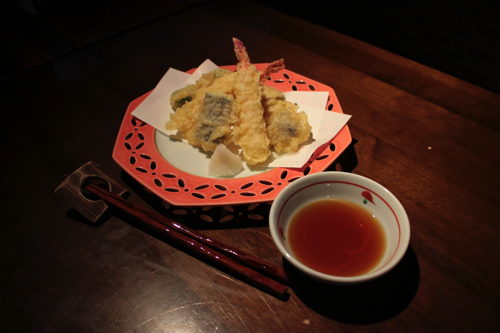 Rice Porridge with Yuzu
Our specialty. Aroma of Yuzu will make your mouth water.