Wavisavinavi
As you know Wavisavi, you will more enjoy Japan.
Soba Tanaka-ya
Shop Information
Soba Tanaka-ya is a popular Izumo soba(buckwheat noodles) restaurant located a little walk from Izumo Taisha Shrine's giant torii. Coarsely ground by a milstone, our hand-kneaded soba has fine texture and robust flavor.
| | |
| --- | --- |
| Genre | Soba |
| Area | Izumo City-Shimane |
| station | 5 minute walk from Izumo Taisha-Mae station |
| Lunch budget | |
| Dinner budget | |
| Lunch time | 11:00-16:00 |
| Dinner time | |
| Holiday | Thursdays |
| Address | Seimon torii-mae, Taisha-machi, Izumo, Shimane |
| Wavisavinavi | Move to app |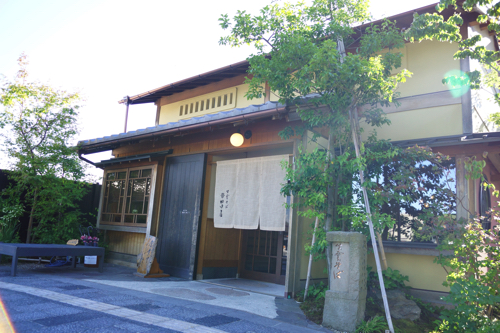 Tanakaya Spirit from Edo Period
Located in between "Shinmon-dori" street and "Kamimukaeno michi" street, Tanakaya has been serving guests on their way to/from Izumo Taisha Grand Shrine for generations. The origin of Tanakaya is dated back to Edo era. We started as an inn for visitors from all over Japan who came to the Shrine hoping to win a lottery called "tomikuji." At the beginning of Showa period, Tanakaya changed its business to a small candy/snack shop, and at the end of Showa period, it became a restaurant. And now at Heisei period, it renewed its business as a soba restaurant. With all these different businesses, the spirit remains the same from Edo era, that it always has been about welcoming guests wholeheartedly, namely "omotenashi." Come drop by our restaurant to see and taste the history of hundreds of years.
God Within Eveything
At Tanakaya, the moisture and temperature of the kneading room is strictly controlled to keep the quality consistency. Buckwheat's condition easily changes, therefore we are very careful of the use of even a drop of water. Carefully hand kneaded soba has the pleasant texture and sweetness with robust flavor and aroma. Izumo Soba is famous for just made by one wooden cooking pin. By rolling soba dough by a pin to a big circle, it makes the texture stronger. Also, we cut our soba with a traditional skill that we don't use a guiding board upon cutting soba, which is quite rare nowadays. Each of your bite is filled with craftmen's traditional skills.
Our soba sauce, our pride over 3 generatinos
"The buckwheat Izumo soba uses are ground with the husk intact, making the color darker and the flavor stronger. To make perfect sauce to go with the special soba, we use dried round herring based broth from scratch, and we don't add sugar like other restaurants. It goes perfect with soba-yu(cooking water which has great health benefits) as well. We hope you enjoy our Izumo specialty. Soba Details: -Buckwheat from Shimane and Yamagata prefecture -Ground by a milstone, 100% hand made Soba Sauce Details: -Wild Kombu Seaweed from Hokkaido Osatsube -Dried bonito, dried mackerel, dried round herring from Japan -Soy sauce from local Taisha machi Izumiya Soy sauce Co. Others: -No added sugar "
Bukkake Oroshi Soba (Soba with Grated Daikon Radish)
With generous amount of grated daikon radish.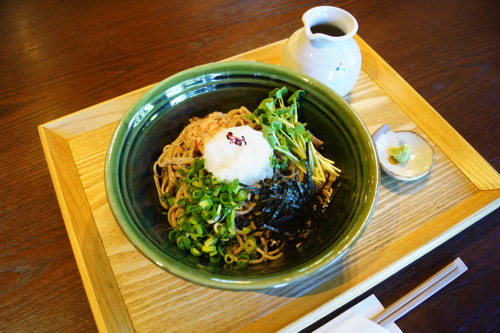 Sanshoku Warigo (Soba Topped with Grated Yam, Grated Daikon Radish and Tempura Bits, and A Soft-boiled Egg)
Grated yam, tempura bits, soft boiled egg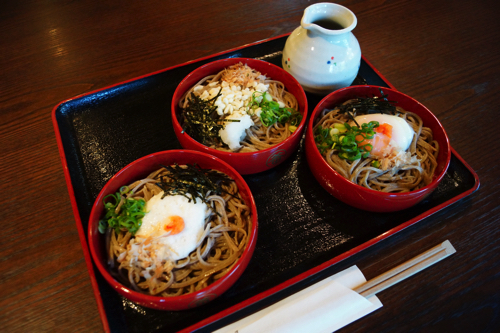 Kamo Seiro (Soba with Duck Dipping Sauce)
Chilled soba with hot duck dipping sauce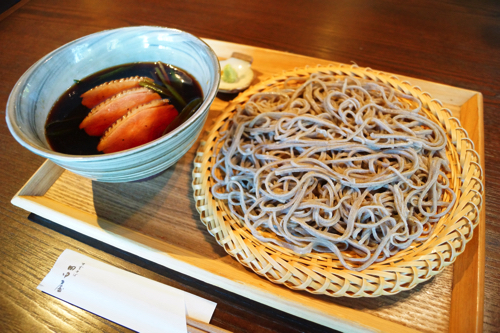 Kamaage Soba (Hot Soup Soba)
Local specialty. Hot soba.