Wavisavinavi
As you know Wavisavi, you will more enjoy Japan.
Kinjohro
Shop Information
Kaga has always been blessed with abundant seafood and fresh produce, and our food culture has developed differently from Kyoto or Edo(current Tokyo). Enjoy our delicately prepared meal with a view of Fujiishi (name given by Hideyoshi Toyotomi who ruled the country in the 16th century), a stone which has been handed down through generations of Maeda family who once ruled Kanazawa, traditional architecture and the atmosphere of a bygone era.
| | |
| --- | --- |
| Genre | Japanese food |
| Area | Kanazawa City-Ishikawa |
| station | 10-15 minute taxi ride from Kanazawa station |
| Lunch budget | 6,000yen~21,000yen |
| Dinner budget | 12,000yen~32,000yen |
| Lunch time | 11:00~15:00 |
| Dinner time | 15:00〜21:00 |
| Holiday | "7 days a week Please contact us for meal arrangements, kids' menu and other requests." |
| Address | 2-23,Hashiba-cho,Kanazawa-shi,Ishikawa |
| Wavisavinavi | Move to app |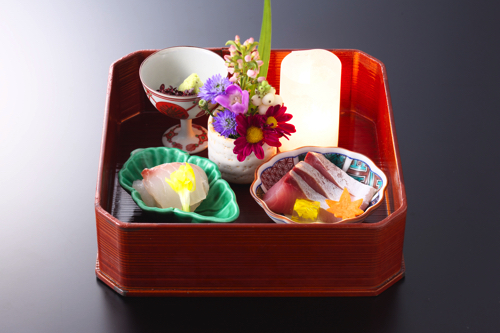 Our passion for cuisine
"Kaga dishes are what embodies the spirit of Kaga culture, which is different from that of Kyoto or Edo. It was developed as a dish to present Kaga and the pride of Maeda clan, who ruled Kaga for generations. Take a bite of artistry and enjoy the marriage of fine ingredients and craft. Kaga dishes are based on Kaiseki, the roots of Washoku(Japanese food), and the mixture of Kyoto and Edo cultures. Maeda clan started with a samurai who was favored by Kansai based Hideyoshi Toyotomi. Since Kyoto was the vanguard city of Kansai region, its influence was strong. On the other hand, when the capital moved to Edo, Edo culture was widespread as a courteous gesture. As a result, the fusion of Edo and Kyoto cultures helpeded Kaga to develop an original, unique Kaiseki. Kaga is blessed with abundant food for its geographical advantage. Sea food arrives from the nearby Japan sea, fresh produce from the valleys of Mount Hakusan and vegetables from the soil of Kanazawa. Kaga was also a stop-by port for trading ships, which enabled them to add rare ingredients to their dishes. The combination of these blessings is what made Kaga dishes today. Kaga dishes aren't complete without beautiful utensils. Being the home of Wajima lacquerware and Kutani style porcelain, we offer you an unforgettable experience of eating delicious food with beautiful tableware. You can enjoy the mixture of cultures not just with your palate but with your five senses. Do not miss this opportunity to try our special Kaga dishes. "
Our passion for design
"Kinjohro also attracts people for its architecure. Not only the entire building's design, but also detailed parts. From the entrance to the room, all you see is the traditional Japanese architecture. All rooms boast different designs, and the view of the garden varies from room to room. We also chose only the finest materials. If a room is vacant, you could check out the inside, so please let our staff know if you'd like. Kinjohro was built with .one of the best known type of Japanese residential architectural style, Sukiya-zukuri. Originally used and loved by teahouses and tea people, Sukiya-zukuri is based on an aesthetic of naturalness and rustic simplicity, and employs refined, sophisticated design. It feels as though you're invited to an out-of-the-way teahouse. Inside the building, Shoin-zukuri is employed, which forms the basis of today's traditional-style Japanese house. Shoin zukuri was established in the 14th century, and you can enjoy the Tokono-ma, Fusuma and Engawa all of which represent Japanese culture. Our spectacular Ranma, transoms, are not to be missed either. Ranma is what architecture and curving combined. Ranma are used in traditional Japanese homes to allow air flow and light to circulate between rooms. At "Ho-o no ma," you find stunning Ranma with Ho-o (the mythical bird) design."
Our passion for gardens
The name originally derives from the platter's edge-length, 8 inches(24cm), and food used to be served on this square platter made of pine tree. A couple of small appetizers is offered. Enjoy this aesthetically beautiful delicious dish. "Kinjohro's garden has its roots in Marda clan's big mansion. Beautifully placed trees and stones in extensive gardens deliver magical and tranquil ambience. Being in the gardens, you feel like you're with presense of Maeda clan, who once ruled Kaga. The gardens employ Enshu style and based on Kireisabi, an aesthetic ideal which demonstrates rustic simplicity and it's an advanced version of Sen no Rikyu's Wabisabi style. It is characterized with a simple yet elegant beauty of Heian era.The best known Enshu style garden is Katsura Rikyu(Katsura Imperial Palace) in Kyoto which boasts an area of 70,000 square meters. Our Kinjohro garden is smaller scaled yet expresses refined Japanese beauty. There are many highlights in the garden. First, the laws of perspective are applied to maximize the space and to reproduce the beauty of nature. Secondly, Chikuzan, an artificial small mountain. It is very small but creative placement of trees and stones makes it look much bigger than it actualy is. Last but not least, Fujiishi, a stone. It was one of the stones Hideyoshi Toyotomi, the "great unifier" in the 16th century, owned. Many people visit Kinjohro just to see this stone. "
Hassun (Appetizer)
The name originally derives from the platter's edge-length, 8 inches(24cm), and food used to be served on this square platter made of pine tree. A couple of small appetizers is offered. Enjoy this aesthetically beautiful delicious dish.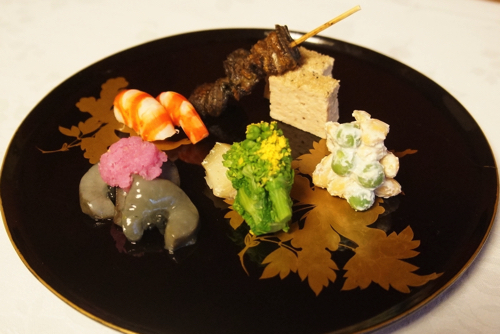 Yakimono (Grilled dish)
Grilled fish is often the main dish in Japanese cooking. Seasonal fish is selected and served.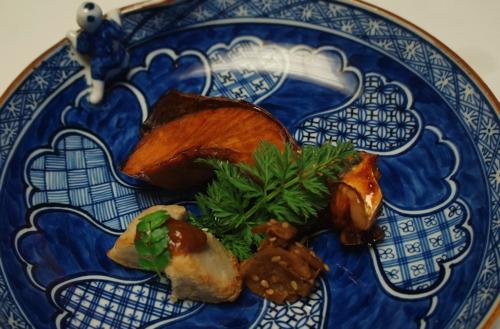 Mushimono (Steamed dish)
With steaming, there is no loss of umami while cooking. Have a delightful bite of our local produce.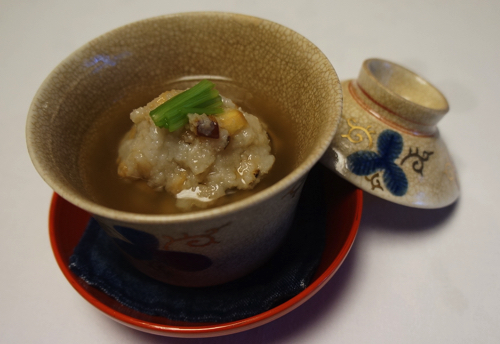 Shirakiku Ginmai Ginjo 1gou
Brewed in Ishikawa prefecture. Brewed with lower temperature and longer days. It tastes gentle and sweet but not too heavy. Recommended to drink at room temperature.