Wavisavinavi
As you know Wavisavi, you will more enjoy Japan.
Kanazawa Ice Cream
Shop Information
New type of ice cream has arrived! Kanazawa Ice Cream offers two big surprises: one is the unforgettable, delectable flavor. Second is the no-melt formula with Japanese techniques. Have a bite of this one of the kind ice cream you cannot find elsewhere. *Please refrain from littering and eating while walking.
| | |
| --- | --- |
| Genre | Ice cream |
| Area | Kanazawa City-Ishikawa |
| station | Higashiyama Teiryujo |
| Lunch budget | 650 yen |
| Dinner budget | 650 yen |
| Lunch time | 10:00-17:30 |
| Dinner time | ー |
| Holiday | No scheduled holidays |
| Address | 1-5-5 Higashiyama Kanazawa, Ishikawa Prefecture |
| Wavisavinavi | Move to app |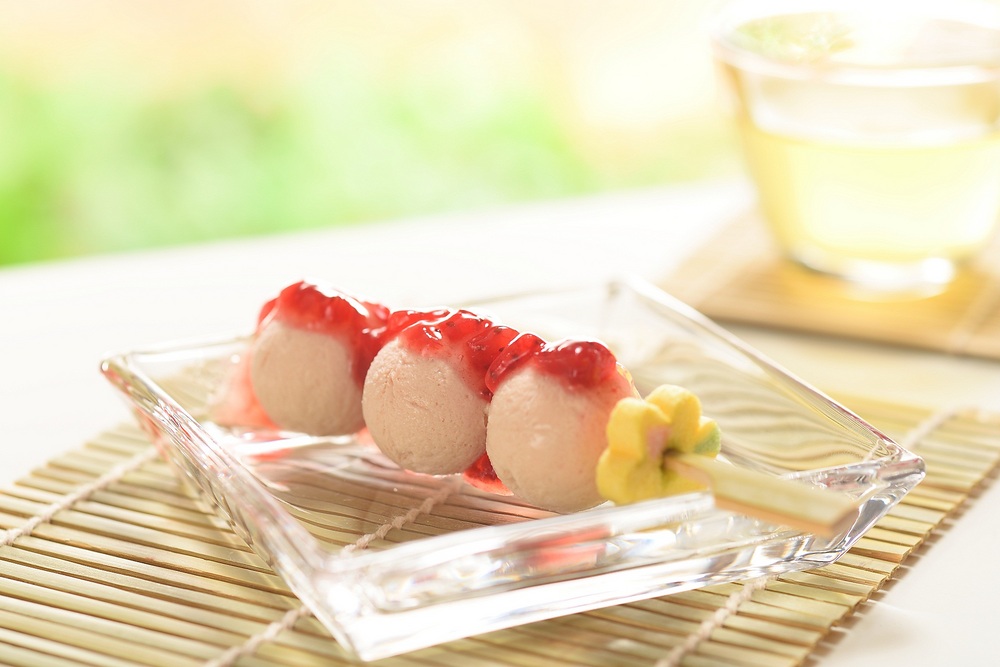 Ice cream with Japanese culture
Shaped like traditional sweets that used to be gifted to the feudal lord, their family crest, and the local's iconic garden symbols, our ice cream will catch your eyes and your heart. Fluffy yet crispy texture and the bursting flavors will surely satisfy your palate. Our secret recipe consists of fresh local produce. Drop by, sit back and have a bite of our ice cream, you'll be happy that you did!
No-melt ice cream
Our ice cream was developed by Tomihisa Ohta(Professor Emeritus) and the team at Kanazawa University. Our ice cream is melt-resistant even when heated by a blow dryer. The secret ingredient is strawberry polyphenol, which holds together ice cream and water. The fact that it doesn't melt provides infinite possibility to mold into any shapes and it's a feast on your eyes as well. Also, you can take pictures without worrying about ice cream dripping and melting.
About our sauce
What completes our ice cream is the sauce. We use fresh local produce for our sauce, and we have stawberry flavor and blueberry flavor. It adds lively colors to the ice cream with fruits' natural tangy taste. Moreover, our sauce is blended with gold leaf flakes-Kanazawa's traditional craft. We're here to serve you the delicious, and gorgeous ice cream that you'll remember for a long time. We wouldn't blame anyone just wanting the sauce.
Maeda clan crest shaped ice cream (Vanilla flavor) Blueberry and Strawbeery sauce -Pour as much as you like- ¥650
Its shape comes from Maeda clan crest. Maeda clan ruled the whole Kanazawa area in the Edo era, and they were the wealthiest daimyo in Tokugawa Japan with over 1.2 million koku. Maeda clan was one of the most powerful families from the period of the warring states through Edo period. It is said they descended from Sugawara Michizane, who favored plum trees hence the plum-blossom crest. He is revered as the god of learning so it might give you intellectual luck if you take a bite of the ice cream.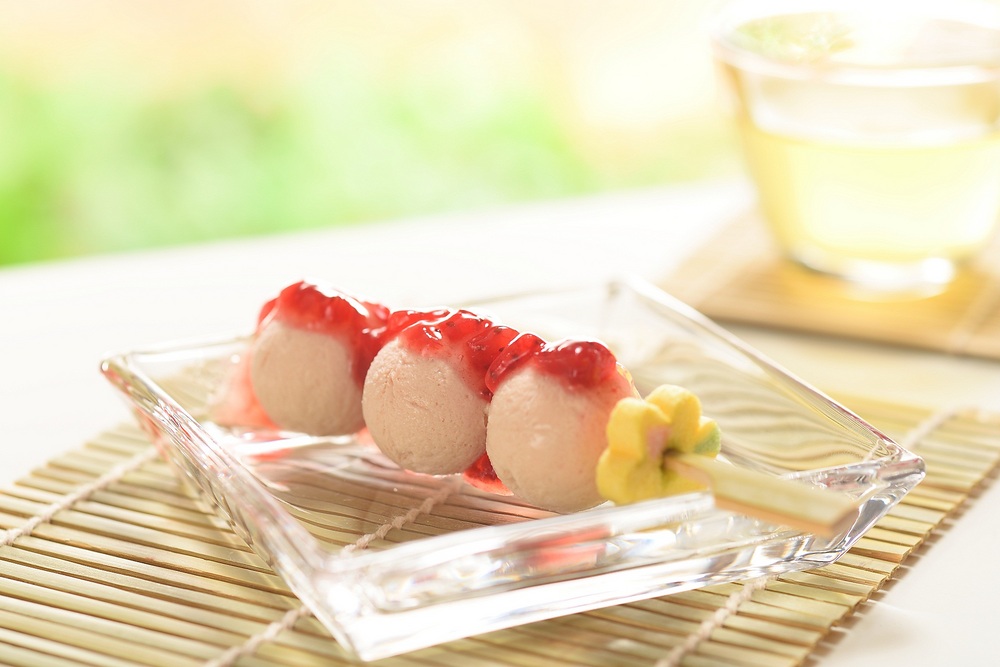 Yukizuri shaped ice cream (Matcha flavor)
In winter at Kenrokuen, one of the Three Great Gardens of Japan, you find unique symbol of the season, Yukizuri. Yukizuri is a technique of attaching ropes to the trees in a conical array in order to prevent the braches from breaking because of the heavy snow. If you're in Kanazawa in warmer seasons, how about experience the winter tradition through our ice cream?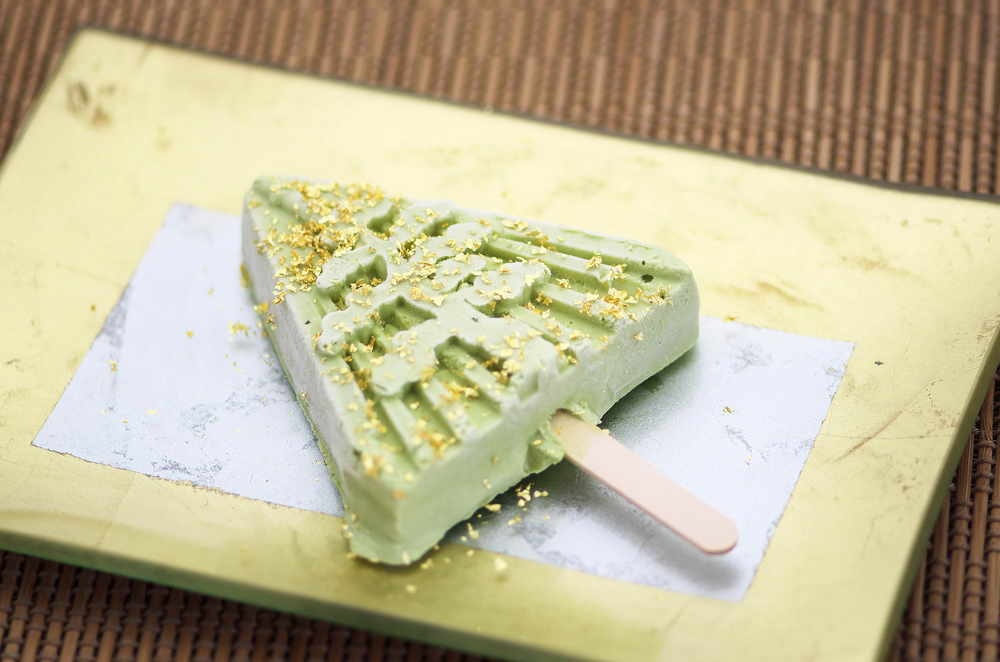 Fukuume shaped ice cream (Strawberry flavor) Blueberry and Strawbeery sauce -Pour as much as you like- ¥650
Its shape comes from Fukuume, the traditional sweets that used to be gifted to Maeda clan, who once ruled the whole Kanazawa area. Locals enjoy Fukuume on New Year's day to this day. Adorable, puffed plum flower shape represents Japanese humility and grace. You can find plum trees at Kenrokuen, a must-see garden in Kanazawa. It only blossoms in March, but here we have beautiful Fukuume ice cream with delicious gold leaf flakes sauce all year round.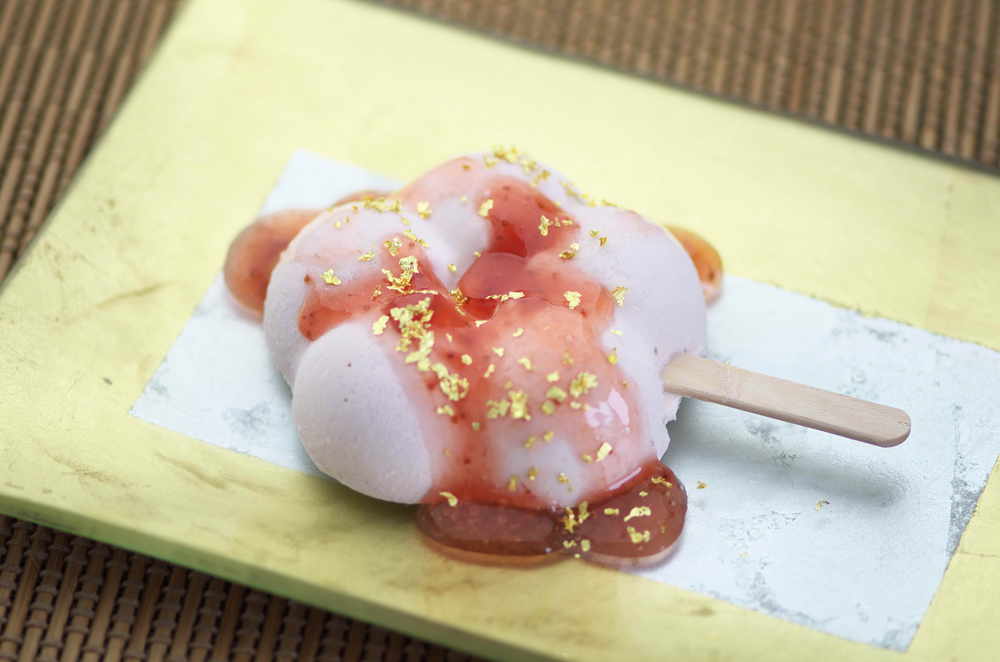 Dango ice cream (Vanilla, Strawberry, or Matcha)
Its shape comes from Dango, rice dumpling sweets that travelers in Japan often enjoyed on the road. Dango is sort of like a fast food with 3 ball shaped rice cakes on a skewer. Its round shape best matches with the ice cream for the fluffy texture. How about enjoying the Dango shaped ice cream a la Edo-period traveler?