Wavisavinavi
As you know Wavisavi, you will more enjoy Japan.
Izumo-ya
Shop Information
Izumo-ya is a traditional sweets cafe famous for Izumo Zenzai(sweet azuki bean soup) and Monzen Dango(rice dumplings). All of the ingredints are carefully selected by the manager, and our rice dumplings are 100 % made with Nita rice. Monzen Dango has 6 flavors and they are also popular among guests.
| | |
| --- | --- |
| Genre | Cafe |
| Area | Izumo City-Shimane |
| station | 5 minute walk from Izumo Taisha-Mae station |
| Lunch budget | 500yen-1,000yen |
| Dinner budget | |
| Lunch time | 11:00-17:00 |
| Dinner time | |
| Holiday | Tuesday |
| Address | 775-5 Kizuki-Minami, Taishacho, Izumo, Shimane |
| Wavisavinavi | Move to app |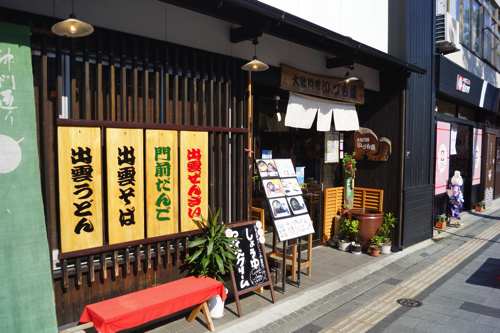 Sweets for a soul and a body
Lined with traditional sweets menu, the interior has a bit of a retro vibe with a soothing effect. Sits by the busy area of Torii of Izumo Taisha Grand Shrine, our cafe opened 10 years ago. Monzen-dori street was never as busy as it is now when we opened, but our owner started a project called "A group for Izumo-dori revival" and it flourished. Our owner welcomes guests wholeheartedly and strive to satisfy guests from overseas, with an English menu with pictures ready. Please come over for a little break from your busy schedule to have a relaxing moment with our delicious treats
Izumo specials
For our dango, we use carefully selected, locally sourced ingredients such as glutinous rice from Nita, soy sauce made with spring water from Hamayama, Miso from Sadamacho, ground bean powder from Tonbara. We also find the best ingredients from all over Japan, like azuki beans from Hokkaido, which goes perfectly with our Nita rice cake. We strive to serve only the very best to our customers.
Izumo Zenzai(sweet azuki bean soup with rice cakes)
With 2 rice cakes made from Nita rice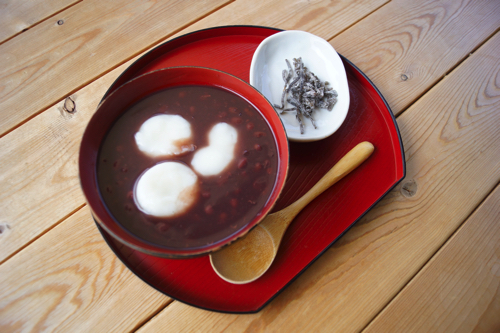 Izumo Zoni (hearty soup with rice cakes)
Local special soup with grilled mochi(rice cake), Araiso seaweed, bonito, and green onions.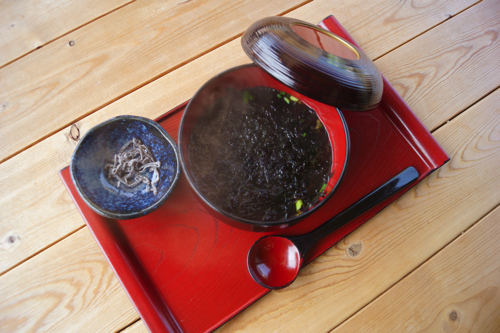 Monzen Dango with Mitarashi (sweet soy glaze)
Izumo's specialty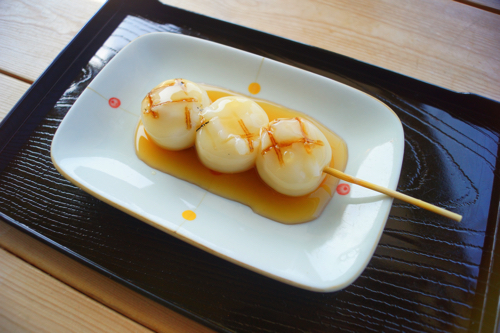 Izumo Udon (flour noodles)
Izumo's traditional udon dish