Wavisavinavi
As you know Wavisavi, you will more enjoy Japan.
Heijoen Odaiba Diver City Tokyo Plaza
Shop Information
You may choose a la carte or all-you-can-eat plan. Our all-you-can-eat plan includes very rare Ozaki beef, for 90 minutes. (Last order is 10 minutes prior) If you wish to eat a little bit of various cuts, we recommend ordering a la carte.
| | |
| --- | --- |
| Genre | Yakiniku(Charcoal Barbecue) |
| Area | Odaiba-Tokyo |
| station | 5 minute walk from Tokyo Teleport station on Rinkai Line, 7 minute walk from Daiba station on Yurikamome Line |
| Lunch budget | 1,000yen~1,999yen |
| Dinner budget | 6,000yen~7,999yen |
| Lunch time | 11:00-16:00 |
| Dinner time | 11:00-23:00(L.O22:00)  |
| Holiday | No scheduled holidays. Closed 1 day per year. |
| Address | Diver City Tokyo Plaza 6F, 1-1-10 Aomi,Koto-ku, Tokyo |
| Wavisavinavi | Move to app |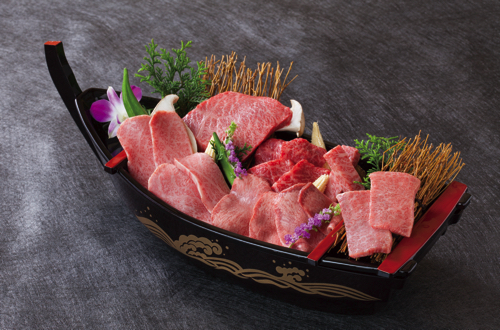 About our plan
"We serve Ozaki beef, a rare kind of Wagyu beef that are hard to find in Japan. Please pick your course: the standard course with 70 dishes to choose from, or the premium course with 94 dishes to choose from. Please note that there are certain rules we ask our guests to follow when eating with our all-you-can-eat plans. 1. Please order the same course for all the members of your group to avoid confusion. 2. Upon ordering the all-you-can-eat plan, you will be served an assorted meat plate first. 3. Please allow us to take order for other dishes after you finish the assorted meat plate that was served firsthand. 4. You may choose a maximum of 4 dishes per order. 5. You may order more dishes after you finish the food on the table. 6. Please do not order too much at the last call."
About Ozaki beef
"Ozaki beef is produced by Mr.Ozaki in an extraordinary environment. Feeding, water and even sleep time are strictly controlled. The cattles are raised stress-free and the balance of the beef's meat and fat is just perfect. As it takes a lot of time and care, they cannot produce large amount of beef, making it hard to find even in Tokyo. We at Heijoen take pride in serving Ozaki beef to you. Ozaki beef may not be as famous as Kobe beef, but it's so good you won't forget Ozaki beef once you have them. "
How to Yakiniku
"1. How to grill to perfection The temperature reaches the highest at the center of gridiron, and the temp gets lower towards the rim of gridiron. Place fatty meat towards the rim as it gets grilled fast. Lean meat tend to not be charred even when grilled at the center of the gridiron. 2. How to order You can just order whatever you like, but if you want to eat like a Yakiniku connoisseur, we recommend starting off with meat with lighter flavor. Enjoy simple salted meat first and then move on to richer meat with sauce. 3. How to enhance Yakiniku Roll your meat and Kimchi with a leaf vegetable called Sanchu. The juice of the meat, Sanchu's crisp texture, and Kimchi's spicy flavor go wonderfully well. Why not try it? "
Meat Boat ¥9,800
Various cuts of meat on a boat. You may have heard about sashimi boat, but this is our speciality.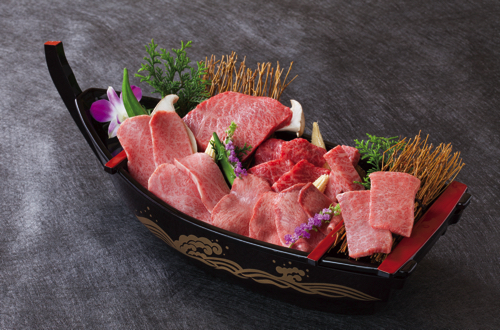 Premium Assorted Meat (for 2 persons) ¥4,980
Assorted with premium cuts of Ozaki beef:Ozaki beef Platinum Kalbi, Chef's selection, thick-cut sirloin, top loin, premium outside skirt, and premium tongue.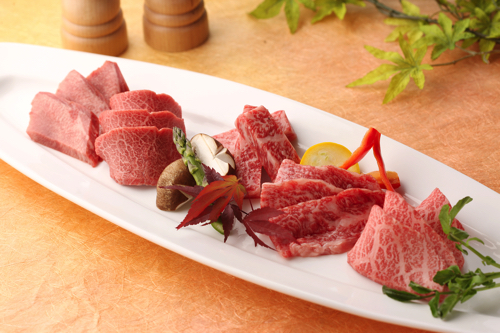 Ozaki Beef Meat Tower (4 kinds) ¥3,780
Assorted with Ozaki beef Kalbi, Platinum Kalbi, Chef's selection, and Top loin. Perfectly balanced with lean meat and fatty meat. Enjoy the view of this meat tower.
Ozaki Beef Broiled Nigiri (2 pieces) ¥800
Ozaki Beef Broiled Nigiri (2 pieces) ¥800 Try our Wagyu sushi. Enjoy this delicate sushi melting in your mouth.