Wavisavinavi
As you know Wavisavi, you will more enjoy Japan.
Akasaka Fukinuki Shinjuku Takashimaya Times Square
Shop Information
Our eels are carefully prepared and grilled by master chefs. Savor our flavorful, glaze-grilled fluffy eels with our special sauce.
| | |
| --- | --- |
| Genre | Unagi(Eel) |
| Area | Shinjuku-Tokyo |
| station | 2 minute walk from JR Shinjuku station Shin-Minamiguchi (New South-exit) |
| Lunch budget | 2000yen~2999yen |
| Dinner budget | 5000yen~5999yen |
| Lunch time | |
| Dinner time | |
| Holiday | No scheduled holidays. (Times Square Building's holidays are applied) |
| Address | Shinjuku Takashimaya Bldg 14th floor, 5-24-2 Sendagaya, Shibuya-ku, Tokyo |
| Wavisavinavi | Move to app |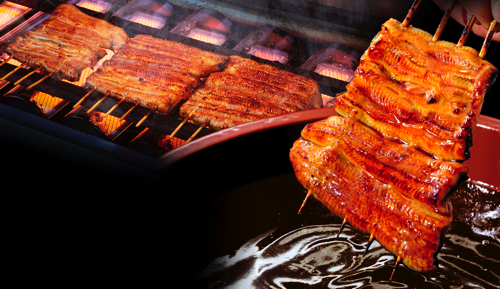 History of Eels
"Eels' history goes back hundreds of years. Eating eels is mentioned in an old book around 1400s. The preparation method differs by regions, and the difference has been inherited from generation to generation since the Edo period. -Edomae(Tokyo) style: Dorsal cutting Cut an eel open by inserting the knife from the spine, skewer the filet and grill without any seasoning, and then steam. After this process, baste with sauce and grill again. We at Fukinuki prepare our eels with this method over the past 95 years since our establishment. With this method, it tastes lighter as the excess fat is burnt off and the meat comes out fluffy. -Kansai (Osaka) style: Ventral cutting Cut an eel open by inserting the knife from the stomach, skewer the filet and grill without any seasoning, then grill again after basting. No steaming process is involved. and the method is also called ""jiyaki."" The sauce is salty-sweet. We would definitely encourage you to taste and compare the two styles. Same eels, different method. Our special sauce has been passed down since 1923 and we still use it by replenishing the sauce continuously. Taste the tradition on your taste buds and enjoy our special food. "
Our passion for eels
"The eels that have been eaten in Japan are a species of Anguilla Japonica. Outside Japan, eels are consumed in Europe. European eels are wider, shorter and fattier, and Japonica eels are relatively mild flavored and lighter, making them perfect for various recipes. At Fukinuki, we take pride in preparing fresh-out-of-water eels in the kitchen and it's something you cannot find overseas. We have live eels delivered to us daily and serve the freshest fish for you to enjoy. Japonica eels are exclusively fished in the pacific ocean and Kagoshima prefecture is known for their eel nursery and fish farming techniques.
Both Unaju and Hitsumabushi consist of grilled eel and rice, but two notable differences separate them apart. First, Unaju is served in a square lacquered box called a ""jubako,"" and got shortened as Unaju, instead of ""unagi in a jubako."" On the other hand, Himstubashi got its name from unagi being served on top of rice in ""ohitsu,"" a large round container, and the word mabusu, which means ""to sprinkle over."" Secondly, the way they eat is different. There is no noted rule when eating Unaju, and it is often served with a bowl of clear soup with eel liver. On the other hand, there's a certain way to eat Hitsumabushi. To begin with, the whole eel dish is divided into four portions. - The first bowl of unagi and rice is eaten plain - The second bowl is eaten with condiments such as nori seaweed and green onions - The third is eaten with soup or tea poured on top - The fourth is eaten however you like Being able to enjoy the dish in various ways is what makes Hitsumabushi different from others and popular. *Swallow carefully as small bones may get stuck in your throat upon swallowing."
Pride in quality of ingredients
"We at Fukinuki take pride in selecting the finest ingredients. We have our eels delivered exclusively from Mikawa, Aichi prefecture or Kagoshima prefecture and carefully prepare them every morning and every nght. The bigger the eels, the richer they get and satisfy any appetite. The selected peppercorns are ground and stored in the low temperature. We have our peppers delivered from Wakayama, Nara, and Gifu prefecture. We serve Koshi-hikari rice from Noda, Chiba prefecture. Using as little agrichemicals as possible, the rice is cultivated in an organic way. ""Brown rice & black vinegar"" method is utilized where they use black vinegar instead of pesticide. We make our pickles in house using only fresh ingredients."
Boiled Eel Liver with Wasabi ¥720
Boiled eel liver. Dip in soy sauce with wasabi. The creamy texture goes well with sake.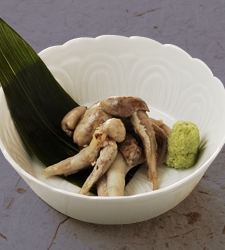 Grilled Eel Liver ¥540
Glaze-grilled eel liver with our special sauce. Often eaten as an appetizer before the main meal. Pair with sake and you'll have a great appetizer and an aperitif.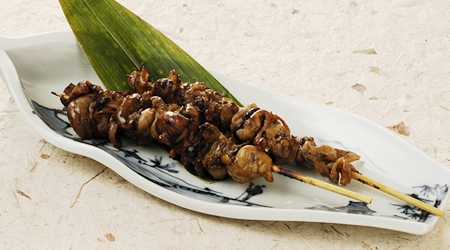 Super Deluxe Grilled Eel over Rice (with Rice, Soup, and Pickles) ¥2,500
Get a taste of our special sauce with a secret recipe. We dip our eels 3 times in our sauce. First dip is followed by 1 minute of grilling, and second dip is followed by 30 seconds of grilling, and then we dip it for the 3rd time before serving after lightly grilled. This method has been developed in our 95 years of history. *Sprinkle Japanese pepper as you like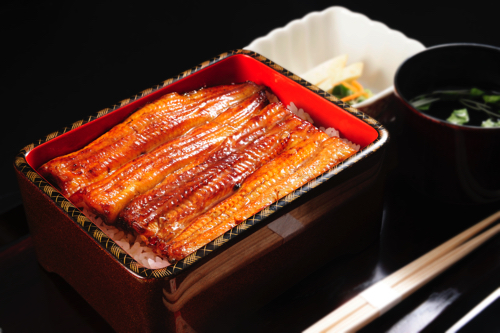 Chopped Grilled Eel over Rice (with Rice, Soup, and Pickles) ¥2,400
"Hitsumabushi (chopped eel over rice) is a dish that you can enjoy in 3 different ways. First, eat the eel and rice as it is, then add condiments to enjoy the change of flavor, then at last you pour broth over eel and rice. Eels are perfectly prepared with the same sauce and the grilling style as the eels over rice(Unaju). Recommended for Ochazuke (rice with broth) lovers. 1. Enjoy the eel and rice as it is 2.Add condiment to change flavor 3. Add broth into the bowl and enjoy as a soupy risotto *Sprinkle Japanese pepper as you like"